KNYSNA NEWS - After returning to his hometown of Rheenendal in January and seeing the "sad state" of the youth in the area, local musician Renaldo Hendriks has pledged to make a difference in the way he knows best – through music.
Having grown up in Rheenendal, Hendriks attended Knysna Secondary School where he matriculated in 2009.
He's always had a passion for music, and initially started out playing the drums before moving onto the bass guitar, which has become his main instrument.
After matriculating, Hendriks spent his time playing gigs wherever they were available in and around Knysna, before he finally got the chance to study music through Knysna Municipality's Mayoral Social Relief and Bursary Fund in 2016.
With then-Knysna mayor Eleanore Bouw-Spies signing off on Hendriks' application, he received funding to attend the Cape Music Institute, where he completed a two-year course in 2018. That was also the year he had the opportunity to travel to the United States as part of the 29:11 music ministry group, which opened up a world of opportunities for him. "It gave me the chance to work with artists like Sam Reeves, Robert Robertson, and Brendan Adams, something I'm really grateful for," Hendriks said. Hendriks was even afforded the chance to do some work in the late Prince's private estate and production complex Paisley Park.
Once done in America, Hendriks returned to Cape Town for more work with 29:11, getting to work with the likes of Camillo Lombard in Cape Town before returning to CMI as a teacher for the remainder of 2019.
He decided to return home this year though, and was saddened by the state of the youth when he arrived in Rheenendal in late January.
"I saw there was a lot of young people wandering the streets, and also noticed that there was a problem with drugs among some of the people too," he said.
This became a harsh reality for Hendriks when he saw an old school friend who was too shy to speak to him at first as he had fallen into a bad drug habit. This was when Hendriks knew he had to do something. So he picked up his guitars, walked to a group of youngsters out in the street and decided he would begin teaching them the art of music. Hendriks noticed the impact immediately. "The joy on their faces was something I can't describe. It was heartwarming. It was just amazing."
Having used music as an escape in the earlier stages of his life, Hendriks wants to afford people the types of opportunities he didn't necessarily have early on in his life.
This will see Hendriks embark on a crusade to help teach youngsters the theory of music, as well as the business side of the art too. "So far, we've started with theory, and there have been some amazing pupils that have already shown amazing progress."
He tries to work with the youngsters on a daily basis, generally in the afternoon at about 15:00. Hendriks already has an established non-profit organisation named Greater Knysna Music Academy, and at the moment is in need of more instruments other than simply the bass guitar. He has seen particular interest in learning how to play the keyboard, which he doesn't have at the moment.
Hendriks can be reached on Facebook, on his profile Renaldo Hendriks.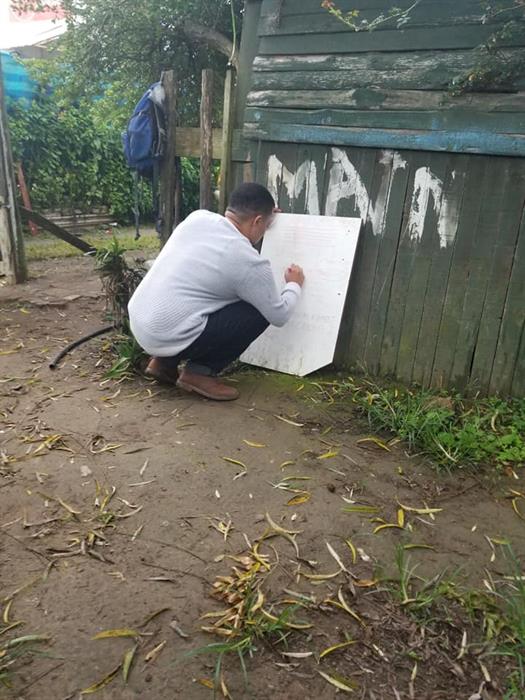 Hendriks is embarking on a crusade to help teach youngsters the theory of music, as well as the business side of the art too.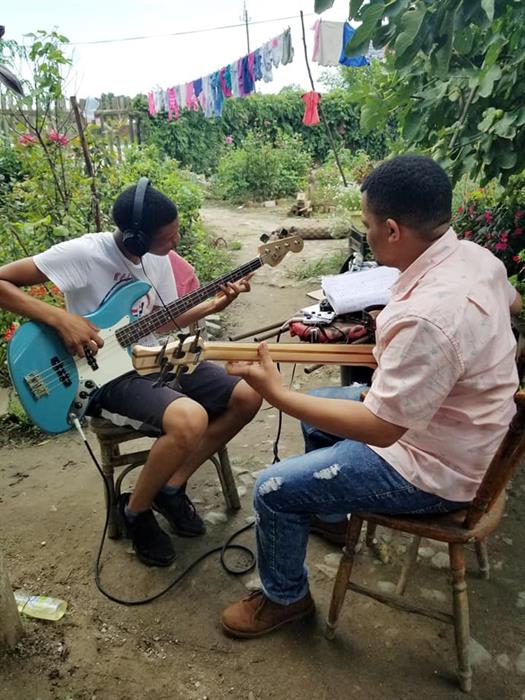 Henriks tries to work with the youngsters on a daily basis.
'We bring you the latest Knysna, Garden Route news'