PLETTENBERG BAY NEWS - Finding the origin of a ringed marine bird was no goose chase for local conservationists when the answer incidentally came on World Migratory Bird Day.
The mystery began on 21 December last year when Kate Brown, the eight-year-old daughter of Nature's Valley Trust director Mark Brown, found a dead ringed sandwich tern on Lookout Beach in Plettenberg Bay.
She was out with the NVT research team ringing kelp gull chicks in the area.
Having been carefully trained by her father to check every dead bird on the beach for rings, Kate had been methodically turning and checking a few dead birds during the course of the day when she finally found one. Not only was the bird carrying a ring, but it was inscribed by the British Museum London.
Fast forward several months later, Brown said the British Museum in London provided feedback on the ring on World Migratory Bird Day. "It turns out the bird had been ringed as a chick on Lady's Island Lake, Wexford, Ireland on 22 June 2001, making it more than 17 years old," Brown said.
The NVT team then put together a map to show the nature of bird migration these terns undertake. "While the direct line equates to about 10 000km, imagine the mileage racked up by a meandering ocean-based migration for the past 17 years."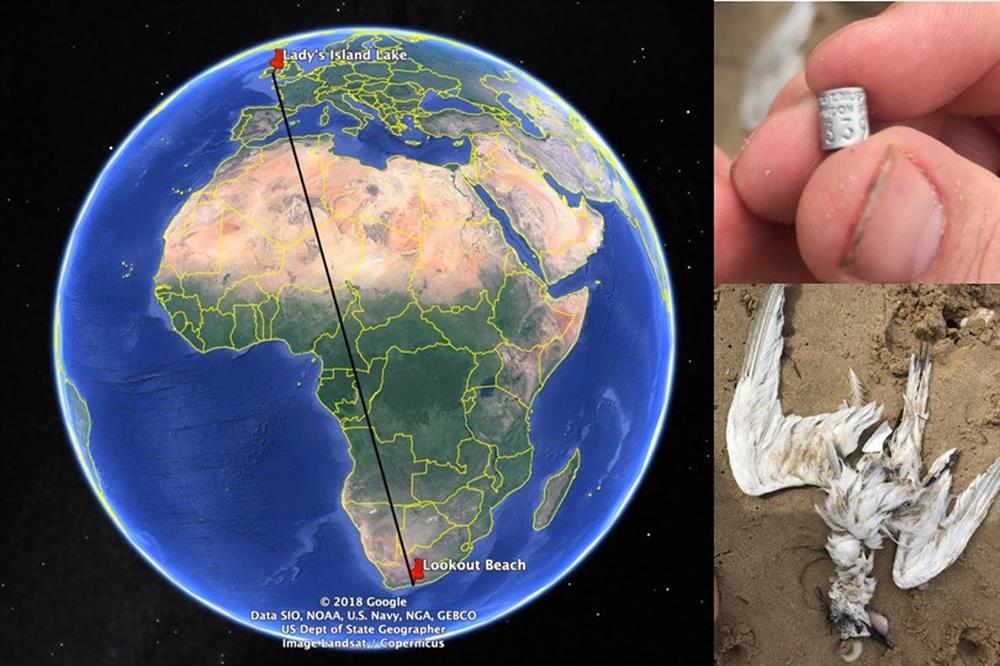 The Nature's Valley Trust team put together a map showing the distance a ringed sandwich tern migrated after it was found on Lookout Beach in Plettenberg Bay last year. Photo: NVT
'We bring you the latest Knysna, Garden Route news'