PLETTENBERG BAY NEWS - In an effort to reduce marine pollution in and around Plettenberg Bay, the Nature's Valley Trust has been installing fishing line bins along the town's beaches.
The organisation's director, Dr Mark Brown said they recently installed five of these bins and will soon place a sixth at the entrances of beaches in and around Plett.
"We hope to see them fill up with loads of fishing line, ensuring that no line is left behind on our shorelines," Brown said. The fishing line collected would be recycled by Plastics SA, he added.
Discarded fishing line contributes to what has been labelled "ghost fishing", a term for fishing gear that is lost, dumped or abandoned.
While long lines and nets from fishing trawlers wreak the most havoc in this regard, recreational and subsistence fishing also negatively impacts on the sensitive underwater environment.
Monofilament fishing line, which is made of plastic, often becomes snagged and is then subsequently cut. The hook at the end of the line is then left suspended in the water with the bait still attached. A fish then takes the bait, gets hooked and dies. Once that fish is dead, its decomposing flesh lures other marine life, and so the cycle continues.
Studies have shown that one snagged line has the potential to kill up to 10 fish.
Not only that, but marine life is often tangled in lost fishing line and snagged gear physically damages the sensitive coral reefs.
Brown thanked local Tiago Simoes Rebelo from Snake Rescue for lending his time, tools, bakkie and handyman skills to install the bins.
The new bins are located at the Robberg 5 beach entrance; at the Central Beach boat launch site; Hobie/Wedge beach on the boardwalk as you walk across the rocks to Lookout; at the Lemongrass entrance on Lookout Beach; and at Arch Rock in Keurbooms.
There are also two existing bins, which Brown said have been well used so far, at Keurbooms Main Beach on the boardwalk by Enrico's restaurant and another at the Waves Beach at Keurbooms.
A bin will soon be installed at Lookout Rocks.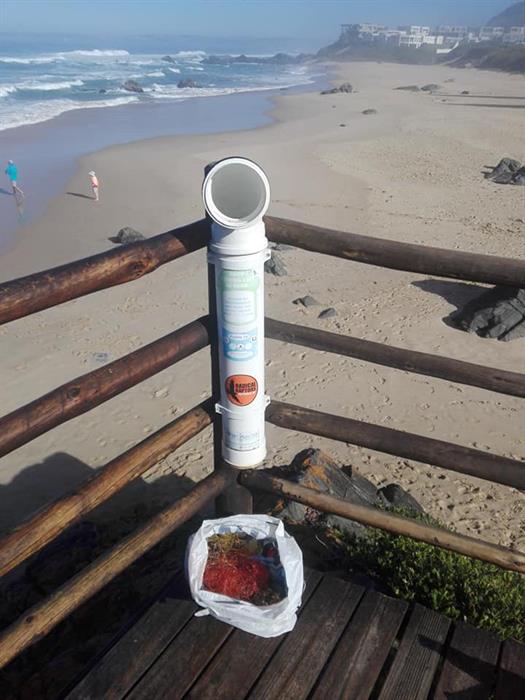 These bins are specifically for fishing gear and lines. Photos: Supplied
'We bring you the latest Plettenberg Bay, Garden Route news'