KNYSNA SPORT NEWS - On the beautiful winter's day of Sunday 30 June, it was time for the 7th edition of the Houtkapper Trail run that forms part of the Knysna Oyster Festival.
A total of 445 runners took to the start line to partake in the 9km, 15km and 27km race distances.
Conditions could not have been better and this showed in the times. Keanu Domingo was the fastest men's runner in the 9km race, coming in 39:54, with Micaela Chevalier the first woman over the line in a time of 56:18.
Marion Leiberich broke the women's record in the 15km race with a time of 01:13:30, while Jacques Mouton won the 15km men's race in a time of 01:17:25. Georgi Minopetros won the men's title in the 27km thanks to a time of 02:24:47 and Brenna Coupland the women's title in the 27km with a time of 02:48:09.
Runners, their families and fans enjoyed the race village at Quintana da Montanha located in Rheenendal with many activities such as tractor rides, the Kabouter kids race and more. An event for the whole family with the majestic Knysna forest as playground.
Fechters was as always such an amazing sponsor, spoiling some runners with the traditional Houtkapper bench and cutting boards and feeding all runners at their water point. The Houtkapper team would like to thank all sponsors and people who had a share in the running of the event.
Men's winner in the 27km race, Georgi Minopetros with event organisers Leon Scholtz (left) and Gavin Bezuidenhout.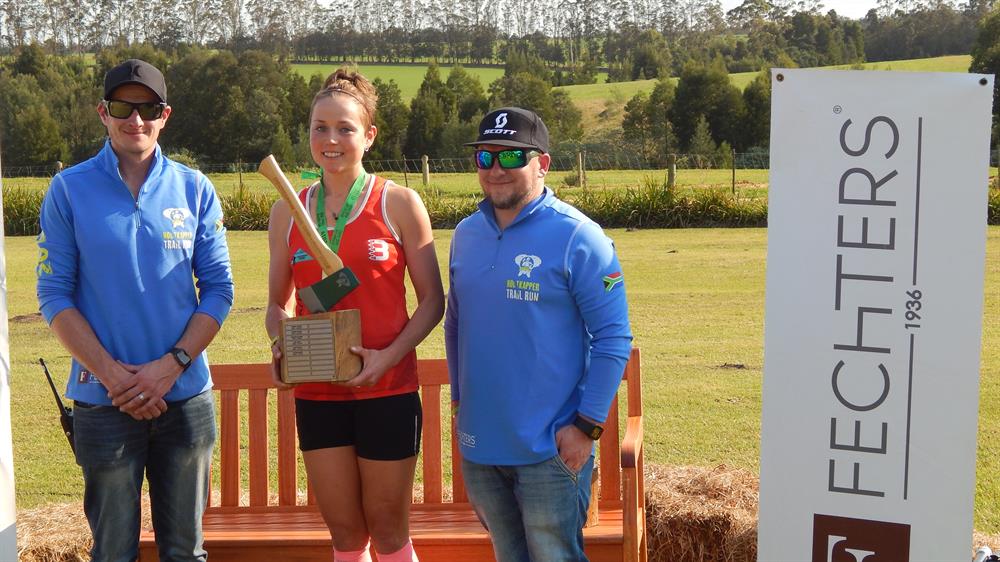 Brenna Coupland (middle), the 27km women's winner, with event organisers Leon Scholtz (left) and Gavin Bezuidenhout.
The 15km record breaker Marion Leiberich (middle) with event organisers Leon Scholtz (left) and Gavin Bezuidenhout. Photos: Supplied
'We bring you the latest Knysna, Garden Route news'