GEORGE NEWS - The 2018 Outeniqua Wheelchair Challenge has come to an end.
The 16th event brought together hundreds of residents and visitors, community members and volunteers who supported participants taking part in various races through the streets of George.
Senzeni Ndebele, (from main sponsor, ACSA) says this year's event was a huge success.
"The Outeniqua Wheelchair Challenge is a favourite event in the socio-economic development calendar of George Airport and is made possible by the partnerships and cooperation of Airports Company South Africa, local government, businesses and communities who rally together every year to promote the well-being and dignity of people with disabilities," said Ndebele.
Results
Men's 42.2km
Racing Chair: Ernst van Dyk - 1:29:15
Quads: Pieter du Preez - 1:36:37
Hand Cycle: Stuart McCreadie -1:03:45
Women's 42.2km
Racing Chair: Margaret Banganjena - 2:40:25
Hand Cycle Female Para: Justine Asher- 1:29:57
Men's 21.1km
Racing Chair (T53/54): Roodly Gowaseb - 1:10:00
Racing Chair (T51/52): Spheshile Nzimande - 58:23
Hand Cycle Male Para: Peter West - 44:12
Hand Cycle Male Quad: Arthur Abrahamse - 1:44:48
Women's 21km
Racing Chair (T53/54): Moleen Majoni - 1:31:08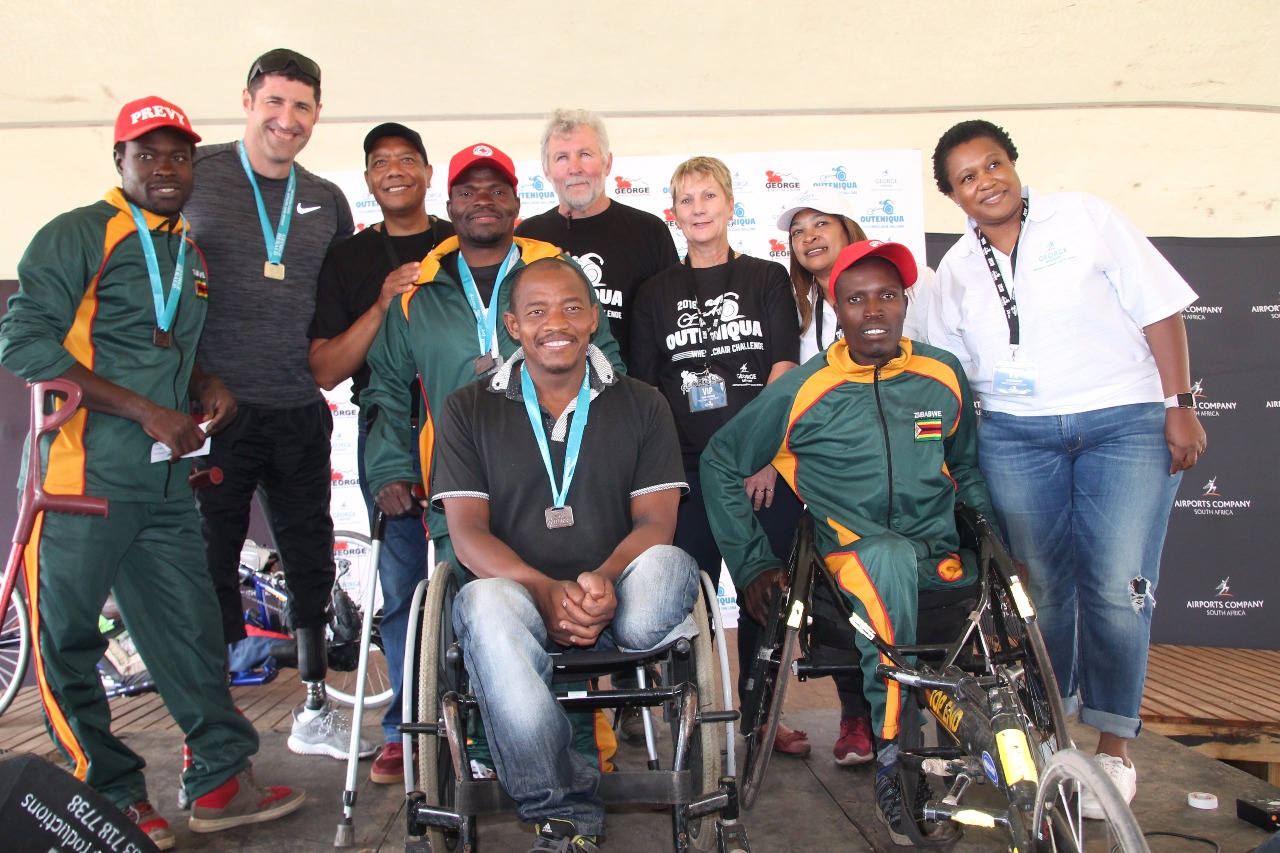 Winners of the 42.2 km race. From left: Simson Miroyiwa (5th place), Ernst van Dyk (1st place), Mayor Melvin Naik, Alfred Moyo (3rd place,) Alewyn Dippenaar (OCC organiser), Minister Anroux Marias, Brender Vorster (ACSA), Senzeni Ndebele (ACSA). In front is Gerrit Hendricks (4th place) and Amos Nkosi (2nd place).
Article courtesy of our sister newspaper, George Herald.
'We bring you the latest George, Garden Route news'