MOTORING NEWS - The 2010 hit Baby tjoklits springs to mind when you meet Johan Spies, the owner of the metallic, chocolate brown 2-litre Ford Cortina that roams the streets of Mossel Bay.
Part of the song, by Gerhard Steyn, goes:
My hart klop tjoklits as jy naby is
Baby Baby tjoklits
Ek wonder wil jy
Hier by my wees.
Living next door to Anna
The Ford Cortina used to belong to Anna Botha, who lived in Boland Park in Mossel Bay. A 1982 model, it had been bought by Anna's husband, brand new. When she passed away a few years ago at the age of 90, the car was offered to one set of neighbours, but Johan Spies, who had lived next door to Anna for 19 years, felt strongly that he should have it.
The sleek lines of the 37-year-old Cortina 2-litre ensure a classic look. Photos: Linda Sparg
"Tannie Anna passed away a week and a half after her 90th birthday. It was as if she had just waited for her birthday," says Johan. "I could not let the car go to the other neighbours. They were not car people and I knew I would be able to maintain it better than they would."
For the love of it
Johan is a panel beater who works for Chris Botha Panel Beaters in Mossel Bay. "The mags on the car are the original ones, dating back to 1982. These days it costs R6 000 for these four mags!" Johan exclaims. "It really was a case of 'Baby tjoklits, ek wonder wil jy hier by my wees'.
I wasn't even a Ford fan. I loved Chevs." But he adored the Cortina so much that he said to the neighbours, "Let me take the car. I will swap you my 123 Series 1984 Mercedes for it." His Mercedes was in no worse condition than the Cortina. The neighbours agreed to swap.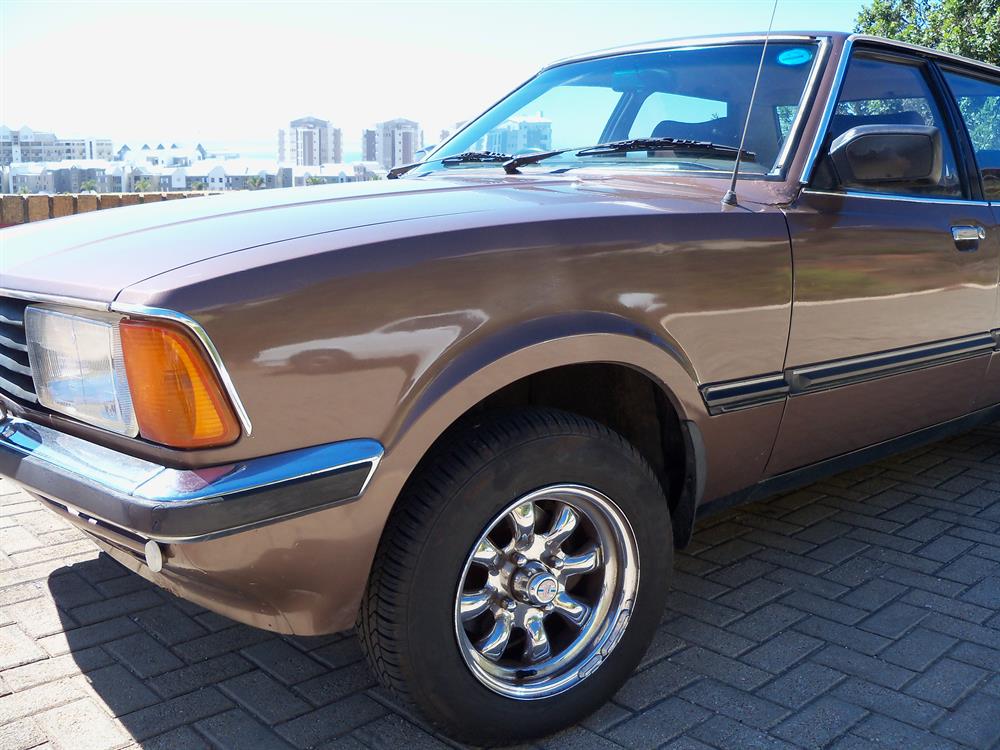 The mags are the same age as the car.
Mint condition
It has been three years since he got the Cortina and he keeps it in mint condition. "I need to remove some rust again," he says, "so this baby will soon be undergoing a minor operation."
Johan has also restored a 1982 Ford Cortina 3-litre bakkie and is working on a 1978 Ford Cortina Ghia 3-litre. He has fixed up Beetles too. "I once had a Beetle that was in pieces for nine months. One Friday afternoon a friend said to me, 'If you get this car up and running by Monday, I'm going to bring you some wheels as a gift.'"
Even though the engine was not even in the car, Johan could not resist the offer and sprang into action. "On the Sunday night I called and told him he'd better have those wheels waiting by Monday morning because the car would be ready."
On the Monday morning Johan started the Beetle and phoned his friend. "Listen to her. She is ready. Bring those wheels."
"Once I get started on a car, I just keep going," Johan explains his passion.
Click here to see a photo gallery
'We bring you the latest Garden Route, Hessequa, Karoo news'