KNYSNA NEWS - Knysna received a very special visitor for 13 days in December last year and January this year.
The visitor took the form of superyacht M/Y Katharine which was docked at the Garden Route National Park offices on Thesen Island for all to see.
Katharine is a 61m-long superyacht built in Italy in 2000 that typically spends her time cruising the Mediterranean and Caribbean, but she and her crew took a break from their usual proceedings to dock and spend some time in Knysna for just short of two weeks.
The vessel arrived in Knysna by making its way through Knysna's Heads at 15:00 on 30 December, something which was still a bit nerve racking for captain Mike O'Neill despite some thorough planning.
"I confess I was still a little nervous entering the infamous Heads with a vessel this size, especially with what seemed like half the town watching," said O'Neill. O'Neill is a Knysna-local and former crewman at NSRI Station 12 in the coastal holiday town. "With proper planning, entering The Heads can be fairly straight forward, but should still be respected. It is important to watch the weather, sea state and plan your arrival/departure around the tides," O'Neill explained.
O'Neill also welcomed NSRI members aboard the vessel during the arrival. "Even though I have not been directly involved with NSRI for some time, I am still 100% in support of the work they do, and relish any opportunity to work with them," O'Neill said. "Welcoming them aboard Katharine was a great opportunity to show them a vessel that they would not normally be exposed to as these yachts very seldom visit the area."
O'Neill has called Knysna home for the past 37 years, joining the superyacht industry in the late 1990s as an engineer before grabbing his first captain's job aboard a smaller Katharine yacht in 1999. After four years O'Neill moved onto other yachts before returning to the Katharine programme in 2012, with the current Katharine superyacht the fourth he has captained in the group.
O'Neill is not the only Katharine crew member that hails from Knysna. There is a total of five crew on board who call Knysna home while one hails from Plettenberg Bay and three from elsewhere in South Africa. Bringing a boat of Katharine's prestige to Knysna was made all the more special for O'Neill, given Knysna's rooted position in the superyacht industry.
"Knysna has produced some first class sailors, yachtsmen and mariners over the decades. Recently the superyacht industry has boomed overseas necessitating the need for more and more crew," O'Neill explained. "There are currently a large number of Knysna residents working aboard yachts like Katharine worldwide, and so it was a wonderful opportunity to bring a superyacht to Knysna."
This was one of the factors that led to Katharine's visit, as her American owners, Lee and Penny Anderson, have been in the industry for nearly 30 years and in that time they have had a number of crew aboard their boats who hail from Knysna. "They were naturally curious as to what the fuss about Knysna was all about, and so decided to come and see for themselves," O'Neill said, noting that they visited Knysna after a month in Cape Town. "The visit to Knysna actually proved to be the highlight of their trip." Sadly for the Andersons, all good things come to an end, and so on 11 January it came time for the crew to leave Knysna behind. Katharine's departure was memorable for all involved, as nearly 100 vessels from the public escorted her on her way to the Heads, with an NSRI Knysna boat leading the way. O'Neill welcomed more Knysna personnel aboard for the departure, this time taking members of the Knysna Sea Cadets aboard to give them a taste of what a superyacht is like.
Luckily for O'Neill, the increased lagoon traffic did not pose any major
challenges. "The NSRI helped out tremendously, clearing a path with their boats, and all the spectators operated their vessels very professionally," said O'Neill. "Having so many boats on the lagoon and so many people lining the shores to wave goodbye to us was a truly humbling moment and made me so proud call Knysna home."
M/Y Katharine captain, Mike O'Neill.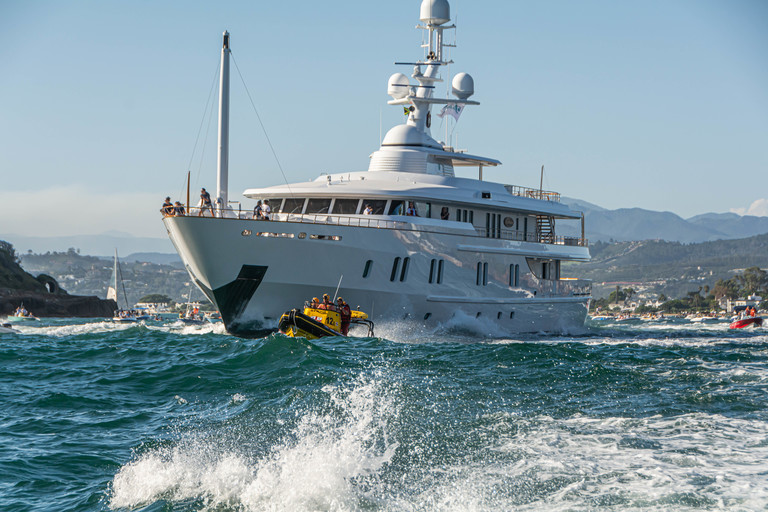 Superyacht M/Y Katharine.
'We bring you the latest Knysna, Garden Route news'