KNYSNA NEWS - Firefighter Hamilton Myana (55), who served Knysna Municipality for more than two decades, was honoured by his colleagues last week at an informal function to mark his retirement.
Myana began his service at the fire department in 1997 as a volunteer. "Three days later I was invited for an interview that led to my permanent employment, one of my best decisions yet," he said.
Myana, who is known as Boota Biza among his colleagues, was described as a stickler for detail, humorous and fun to work with. His colleagues said they had learned much from him and that he had extreme patience when grooming rookies.
On Tuesday 30 March, his colleagues shared fond memories of Myana during an intimate session at the fire station. Manager of Protection Services Steven Langlands commended Myana for his contribution to the department.
"He is a quiet man who did his job diligently. He has been involved in some of the major fires this town has ever seen. You will be missed. Thank you for 24 years of well-rendered service," said Langlands.
Hamilton Myana receiving the token of appreciation from fire chief Ian Bezuidenhout.
Fire chief Ian Bezuidenhout presented Myana with a sculpture engraved with Myana's name and years of service. Depicting a fireman saving a young girl from a fire, the sculpture symbolises the essence of Myana's journey as a fireman. "And so, this right here is your time, your hour and in your honour," Bezuidenhout said.
Reflecting on highlights of his career, Myana recalled a fire in Paradise in the early 2000s, when he came face to face with death.
"The fire spread so fast and was surrounding our vehicle. The entire neighbourhood was enveloped in smoke. I had to go through the fire to fetch the vehicle - and I did," he said.
He also mentioned the Simola fire, which took close to a month to contain, as well as the June 2017 fires.
"In each situation it has always been about saving lives; everything else comes second to that. It has been an amazing 24 years. I'm going to miss the thrill and the gratifying feeling that comes with doing this job, and obviously my colleagues too. I see our standard has increased to an international level. May the station continue to grow," said Myana.
For him it's back to the drawing board. "Whatever comes next will be aligned with making a positive contribution in my community," the veteran firefighter said.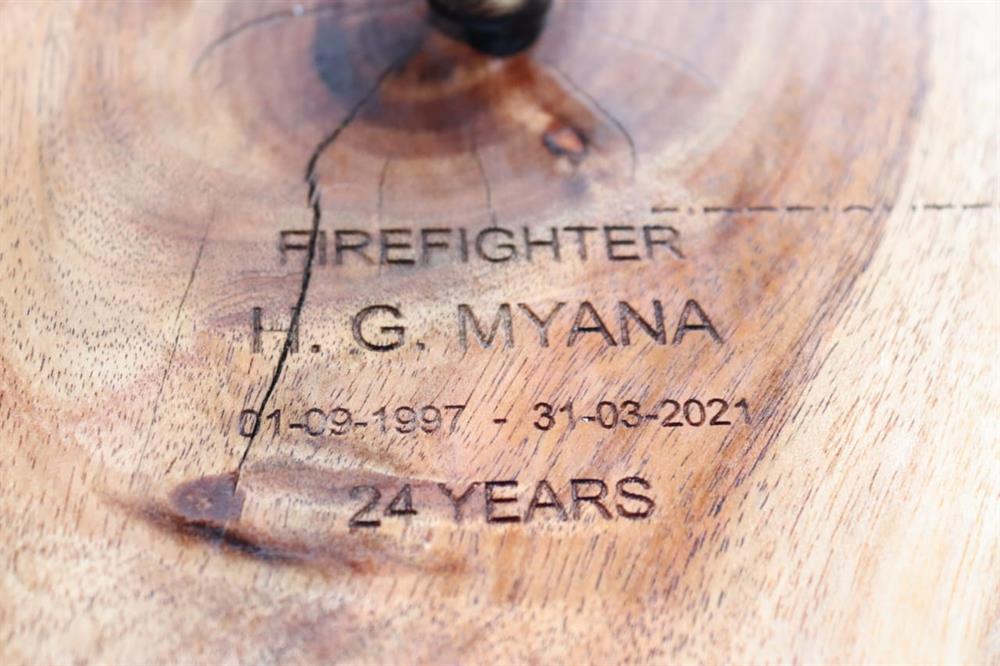 The sculpture is inscribed with Myana's dates and length of service.
'We bring you the latest Knysna, Garden Route news'