Video
SEDGEFIELD NEWS AND VIDEOS - Sedgefield veteran car lover Dennis Cook is a very lucky man to have a mistress his wife approves of.
"I have owned my 1958 Triumph for 49 years. I got it in my early 30s and fixed it on a shoestring budget. I have taken it apart and put it back together so many times I know this car better than my wife. She has even named my car Mistress because she says I sometimes spend more time with my car than with her," jokes Dennis.
He believes men don't generally name their cars, that it is more a girl-thing.
"Women are the ones who name their cars Betsie, and befittingly my wife has named my favourite car my Mistress," says Dennis laughingly.
Watch 2 videos below:
Road-tripping for charity
Dennis is the organiser of the Garden Route Motor Club's annual Century Charity Run 2019 which takes place this Sunday 3 November.
It is only the second year this fundraiser is taking place and all proceeds go to the charities The Living Cornerstone and Mobile Meals.
"Sedgefield is like the little stepchild of Knysna Municipality and I always joke that it is also the biggest open-air retirement home in the country. Through the popular annual Knysna Motor Show – considered the best car show in the country – more than R1-million gets donated to charities each year. This made me decide to map a charity run in Sedgefield for the first time in 2018 to specifically create awareness and raise money for these vital local charities," explains Dennis.
The 74-year-old veteran motor lover owns four old cars – two Triumphs and two Morgans. According to Dennis, collecting old cars it not necessarily only a rich man's hobby or sport as some might think, but is about a real love of veteran cars.
The rest is history
Dennis has two garages at home and each houses a Triumph and Morgan as well as what he calls the family's "plastic cars" – which they drive when doing mundane things like shopping around Sedgefield. One garage features a small medal-and-trophies case stuffed with awards and medals, won mostly for the Triumph's condition and originality throughout the years.
Against the other wall in his garage, a beautiful, big wood-and-glass showcase houses his miniature car collection of about 150 models. "It is not a big collection. I started collecting toy cars many many years ago though a series called Matchbox Models of Yesteryear. The model cars came in a small matchbox like this Opel Rennwagen. Matchbox Models of Yesteryear eventually brought out a second series and I just continued to collect the toy models and did not stop," says Dennis.
Included in his collection are a few rare models from a company called Lansdowne in England and they are the most expensive, with an estimated value of about R5 000 each. But the majority of his small cars are priced at about R200 to R300 each.
"I consider myself fortunate to collect old cars. The idea is to enjoy motoring and also pass the benefit on to old-age homes in Sedgefield. I borrowed the idea for the Century Charity Run from the vintage motor club in Cape Town who did the same concept every year – but just for fun – and decided to do it here in Sedgefield for charities," explains Dennis.
When, where and who
The Century Charity Run 2019 is for bikes and cars of at least 25 years and older and when combined with the age of the driver the total must equal or exceed 100 (a century). Entries are not restricted to motoring clubs. An entry donation of R100 is required and the charity run consists of a route of 100km to the end point. There are currently 65 entries for this year which includes a 93-year-old Norton motorbike and a 95-year-old Ford Model T.
The run starts in the parking lot opposite the Engen 1 Stop on the N2 in Sedgefield with registration from 09:00 and the first cars away at 10:30. The public is welcome to view the cars and also enjoy the Art Market at the Mosaic market the Sunday morning.
"The 100km ride is just a drive and not a rally or anything to spoil the marriage," in Dennis's words. The drive ends at Totties in Rheenendal with a prize-giving ceremony which includes the categories "Oldest combination of car and driver", the "Biggest difference in age between the car and driver" and the "Oldest car or motorbike". There will also be a raffle with all funds raised going towards the Sedgefield charities.
Entry forms can be obtained from Dennis at gardenroutemc@gmail.com or phone 060 700 0192 for more information.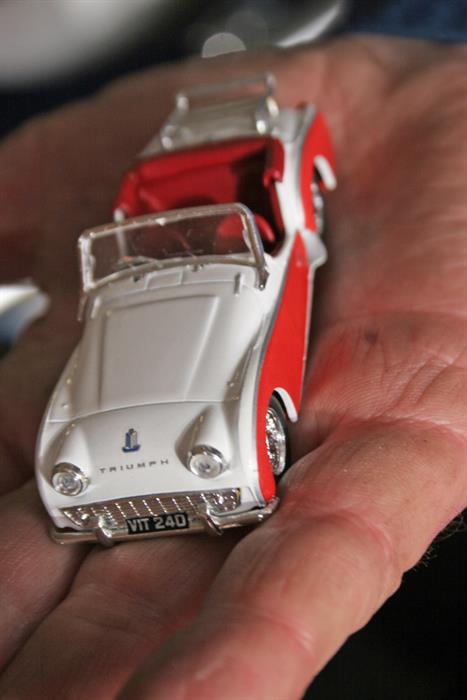 The miniature replica of a 1958 Triumph is Denni's Cook's most sentimental in his collection of about 150 models. Photo: Lee Jay
Dennis Cook has won countless awards and medals with his 1958 Triumph throughout the years. Photo: Lee Jay
Dennis Cook dusts the shiny wheel cap of his multi-award-winning 1958 Triumph in preparation of the Garden Route Motor Club's annual Century Charity Run in Sedgefield on Sunday 3 November. Photo: Lee Jay
'We bring you the latest Sedgefield, Garden Route news'