KNYSNA NEWS - Residents of Smutsville's newest settlement on the Lankgewag Dune have continued to rebuild and settle there after the Red Ants recently tore down their structures on behalf of Knysna Municipality, which has declared these dune structures illegal and unsafe.
This isn't the first time the municipality and the residents of the Lankgewag settlement have locked horns however, as June last year saw a number of protests flare up in Smutsville over disputes with the municipality.
And despite a report at the time stating that then provincial Human Settlements minister Bonginkosi Madikizela had given the residents permission to live there, it has now been established that he had never done so, according to his spokesperson Ntomboxolo Makoba-Somdaka.
Cramped living situation
To understand why people have been building structures on this dune, one has to take a look at the glum housing situation in the Sedgefield township of Smutsville – where residents have been living in less than desirable conditions for many years, and have had to resort to desperate measures in order to get by.
Eugene Avery, who is yet to move to the Lankgewag Dune, has been a Smutsville resident his entire life. He said when the time came to leave his parents' house, he had no alternative but to move into a small structure in his parents' backyard with his wife and family. It is in this same house that he's raised his children, the eldest of whom is now 20 years old, but with nowhere to move to his son isn't going anywhere soon either.
Avery has been one of the more fortunate residents, however. In the case of Vemesia Galant, she was living in a house that was holding four generations before she, her husband Fregen and a group of other residents decided to erect structures and settle on the dune that lies on Smutsville's northern side. The dune separates Smutsville from the Groenvallei and Groenvlei areas on the other side of the dune, and its name Lankgewag, which means "long awaited", reflect these residents' sentiments.
Settling in
Galant and her husband moved to Lankgewag three months ago and since then, they have been two of the strongest catalysts driving this growing settlement on the dune where the Red Ants destroyed structures last month – homes which Galant says were "on the verge of being moved into".
According to Knysna Municipality spokesperson Christopher Bezuidenhout, 18 "unoccupied" structures were broken down on Friday 21 June, and the following Monday a further four structures were removed. Galant pointed out that most of these structures were just about ready for occupation as residents had been building them for months.
The residents did not take this lying down, however. By the Thursday (27 June) following the second structure removal, residents had already rebuilt their houses, albeit smaller than before, and moved in straight away. Galant said the people did this out of frustration and desperation, as they were tired of waiting. There is now a total of 34 houses that are occupied on Lankgewag, with just over 100 residents calling it home, according to Galant.
Planned protest
She also stated that residents plan to apply for a march/protest at Knysna Municipality, in order to air their frustrations and make themselves heard.
To this, Avery added, "We just want land. That's all. We can build ourselves, as we've shown. Land and water are all that we want. Give us that, and we'll stay to ourselves."
Fregen Galant and Eswill Pieterse are both long-term residents of the Lankgewag settlement. Photo: Blake Linder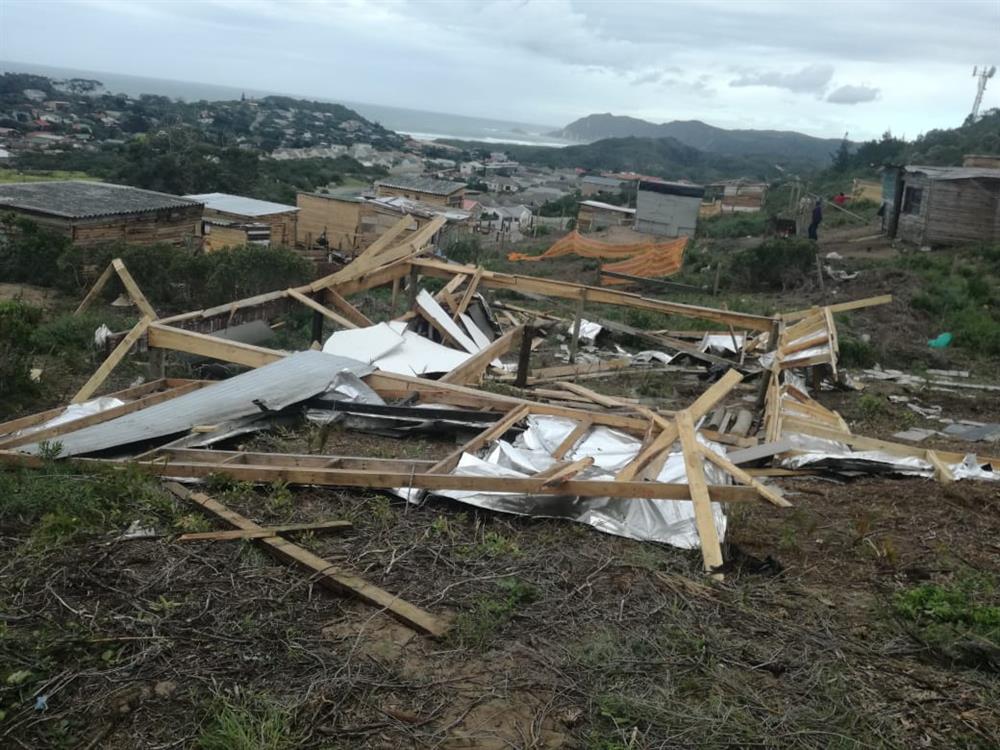 One of the structures which was destroyed by the Red Ants on Lankgewag.
'We bring you the latest Knysna, Garden Route news'