KNYSNA NEWS - After a man was attacked on Knysna's train bridge on Monday 7 October, local crime-fighting entities came together to capture the man's assailants within a matter of hours.
The search for the perpetrators began at about 16:30 on 7 October when a member of the Brenton-on-Lake Neighbourhood Watch contacted the Allsound Security control room urgently seeking assistance after a gentleman was attacked on the bridge. The victim was walking from Brenton-on-Lake to town when he was confronted by two men armed with an axe and a meat cleaver. They robbed him of his backpack and during the scuffle, the victim was struck on his arm with the axe.
The man was able to provide a description to the Brenton NHW and Allsound Security members, giving them a good leg to stand on in the effort to catch the perpetrators.
The Allsound control room operators then reviewed CCTV footage from the train bridge and spotted two men fitting the description provided by the victim of the assault.
The footage was subsequently distributed to both Allsound and Knysna police officers who responded from the Knysna side of the old train bridge. With police members, Allsound officers, and volunteers responding from both directions, the suspects were quickly spotted.
When they realised they had been spotted, they turned and tried to escape back towards Brenton but were intercepted by an Allsound officer and a volunteer, bringing to an end the hunt for the two assailants.
Police officers took both suspects into custody and recovered the victim's backpack and all his possessions.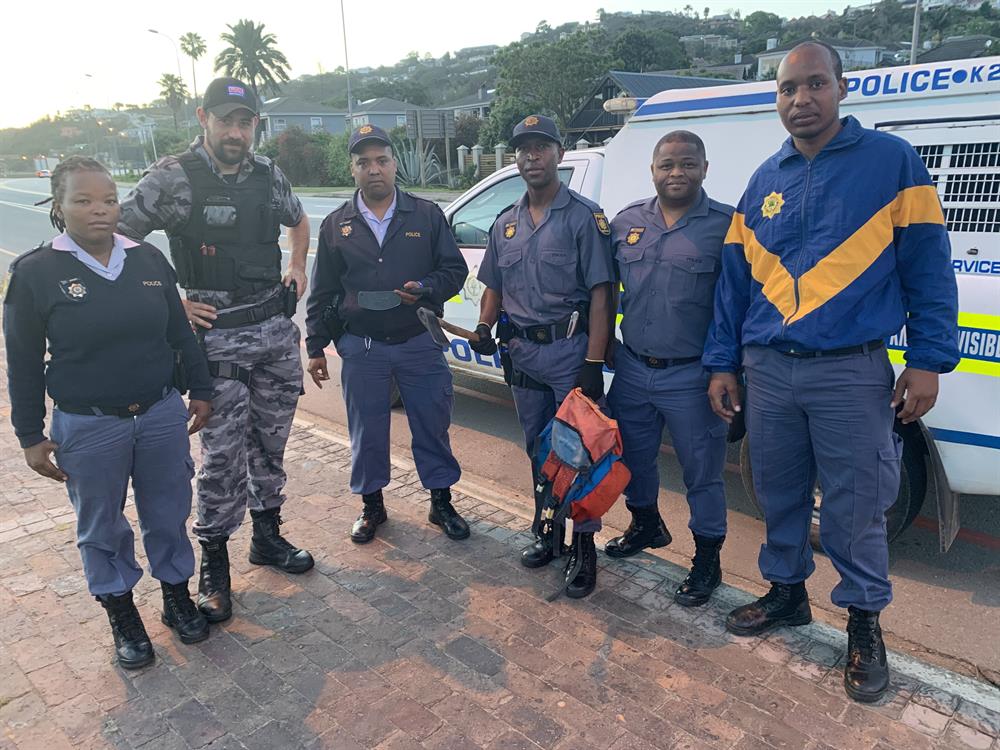 Some of the Knysna police and Allsound officers who were involved in arresting two suspects who attacked a man on the train bridge between Brenton and Knysna earlier this month.
'We bring you the latest Knysna, Garden Route news'