GARDEN ROUTE NEWS - Five suspects aged between 33 and 42 have been arrested on various charges in Knysna and Plettenberg Bay, ranging from housebreaking and theft to possession of an unlicensed firearm.
According to Southern Cape Police Spokesperson Sergeant Chris Spies, efforts by police to deal with serious and violent crimes over the festive season have come under the theme 'Zizojika Izinto - Turning the tide against crime'.
"These efforts have led to the arrest of five suspects and recovery of a stolen firearm as well as various stolen items in Knysna and Plettenberg Bay on Wednesday 26 December 2019 during an intelligence-driven operation," Spies said.
According to Spies, police members along with private security from Knysna stopped a vehicle – a white Nissan LDV – on the N2 near the Old Cape Road turnoff in the early hours of the morning. "Upon searching the vehicle, police found a stolen watch and housebreaking implements inside. The vehicle was later taken to the police station where a thorough search was conducted," Spies said. It was during this search that police found a firearm, jewellery as well as an undisclosed amount of cash hidden behind the engine of the vehicle.
"Further investigation into the matter revealed that the firearm was stolen during an earlier housebreaking incident in Riversdale."
Investigations took the team to a house, which belongs to a 39-year-old suspect, in Kwanokuthula where an LG plasma television, expensive jewellery, and a camera were seized.
"The five suspects are facing charges of housebreaking and theft, possession of stolen property and possession of housebreaking implements," Spies said. "The 39-year-old suspect, who was also the driver of the vehicle and owner of the house, is also facing additional charges of possession of an unlicensed firearm and ammunition."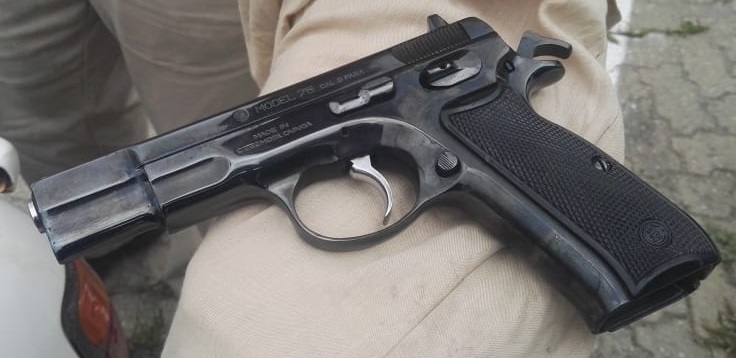 The firearm which was recovered.
The watch which was recovered.
'We bring you the latest Garden Route news'