KNYSNA NEWS - Garden Route National Park's Knysna team gathered at the Harkerville Group Centre to congratulate five recipients of the long-service awards in Knysna, with three receiving recognition for 30 years' service and two for 10 years' service.
Knysna park manager Megan Taplin congratulated their dedication and continued hard work.
The three who received 30-year awards were Dick September, Mina Mowers and Douglas May, while Shandro Jordaan and Johannes Olivier received their 10-year awards.
Taplin further thanked the recipients for their hard work, dedication and loyalty to Sanparks as well as for what they are doing to pass down knowledge and experience to others.
Johannes Olivier and Megan Taplin.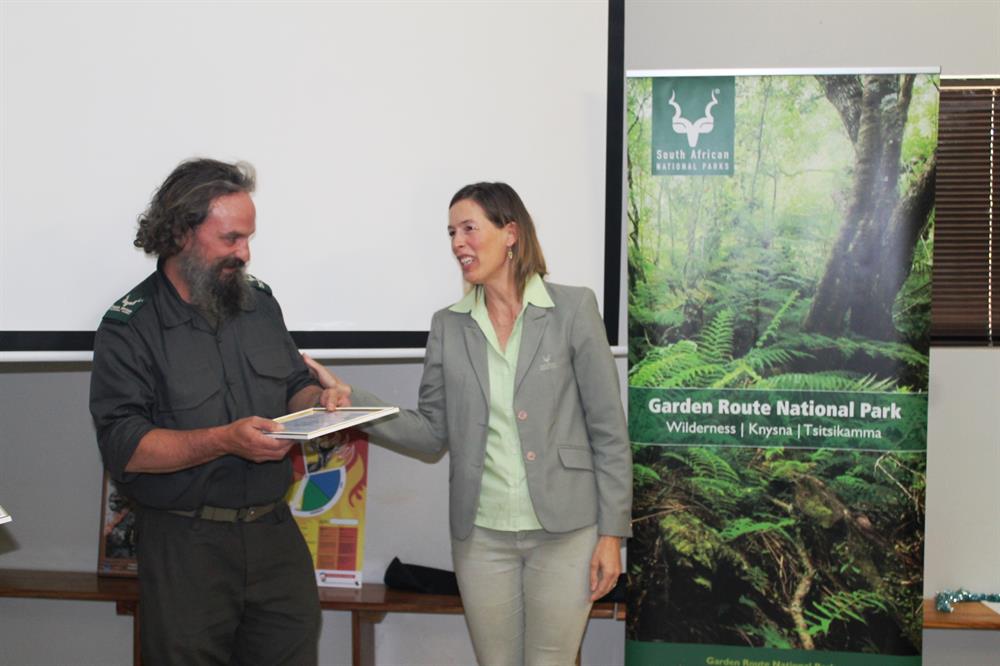 Klaas Havenga of Diepwalle accepting an award for Douglas May who was absent on the day.
Klaas Havenga, Mina Mowers and Megan Taplin.
Nico Oosthuizen of Harkerville accepting an award on behalf of Shandro Jordaan (who was on leave) from Knysna park manager Megan Taplin.
'We bring you the latest Knysna, Garden Route news'