WESTERN CAPE NEWS - The Western Cape Covid-19 data dashboard, developed by a team in the Department of Health, has been shortlisted in the New Generation social and digital media awards, in the category "Best use of technical innovation".
"This is the only government department to be shortlisted across any of the award categories, and our dashboard finds itself in good company amid work from some of South Africa's largest brands and companies," explains Premier Alan Winde in his latest statement.
"The dashboard was built so that the Western Cape Government could share reliable data with members of the public, that they could use to keep themselves informed throughout the pandemic. "It allows anyone to see data and statistics for the province at a glance. It is updated daily, showing the number of cases, and recoveries per sub-district, as well as the number of tests conducted and the total number of deaths recorded.
"The dashboard has also recently been updated with additional features which allow residents to see the number of active cases by sub-district, recovered cases by sub-district, recoveries per 100 000 and total cases by sub-district.
"Since its launch at the end of April, the dashboard has had over 1.3 million unique visitors which demonstrates its value and usefulness to the residents of the Western Cape.
"As a government, our response to COVID-19 has been evidence driven and data led, and the dashboard is example of how we have used innovation and big data to make information accessible to the public. We send our congratulations to the team involved, and wish them well for the winners' announcements, which will be made later this month."
Infection update:
As of 13:00 on 9 September, the Western Cape has 2805 active cases of COVID-19, with a total of 106 700 confirmed cases and 99 886 recoveries.

Total confirmed COVID-19 cases - 106700
Total recoveries - 99886
Total deaths - 4009
Total active cases (currently infected patients) - 2805
Tests conducted - 494415
Hospitalisations - 693 with 130 in ICU or high care
More data is available on the dashboard.
The Western Cape has recorded an additional 18 deaths, bringing the total number of COVID-19 related deaths in the province to 4009.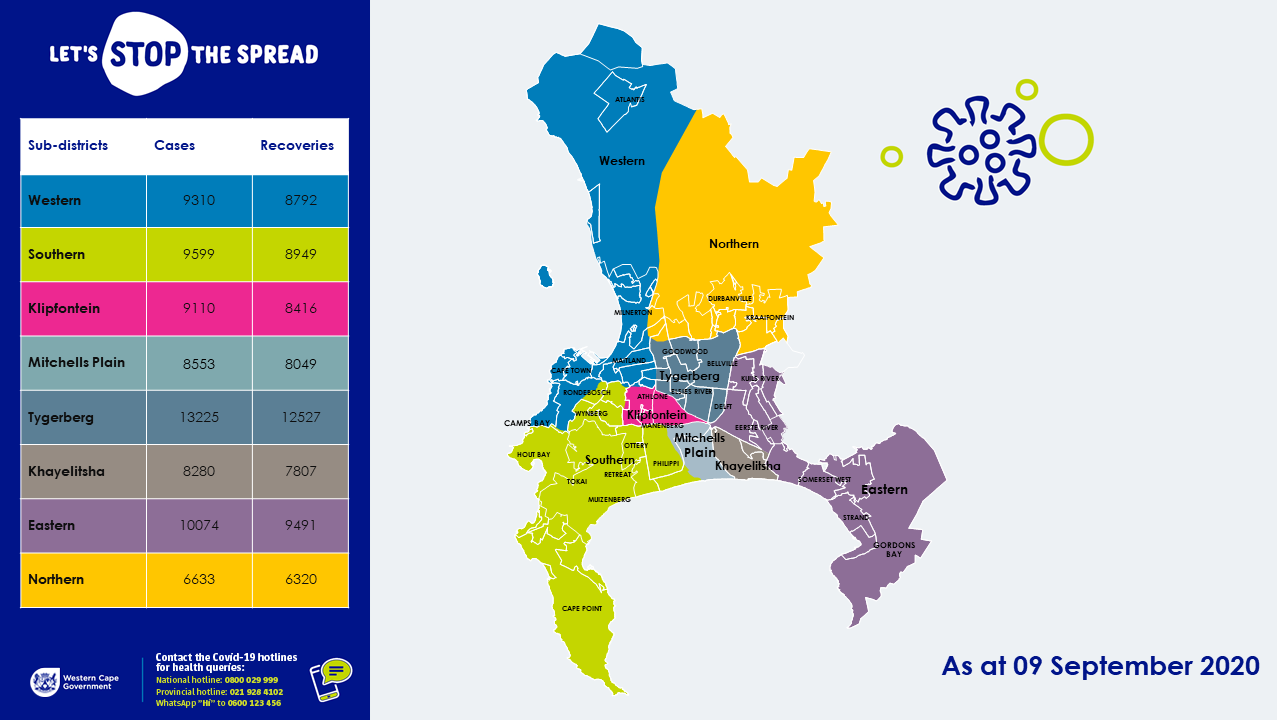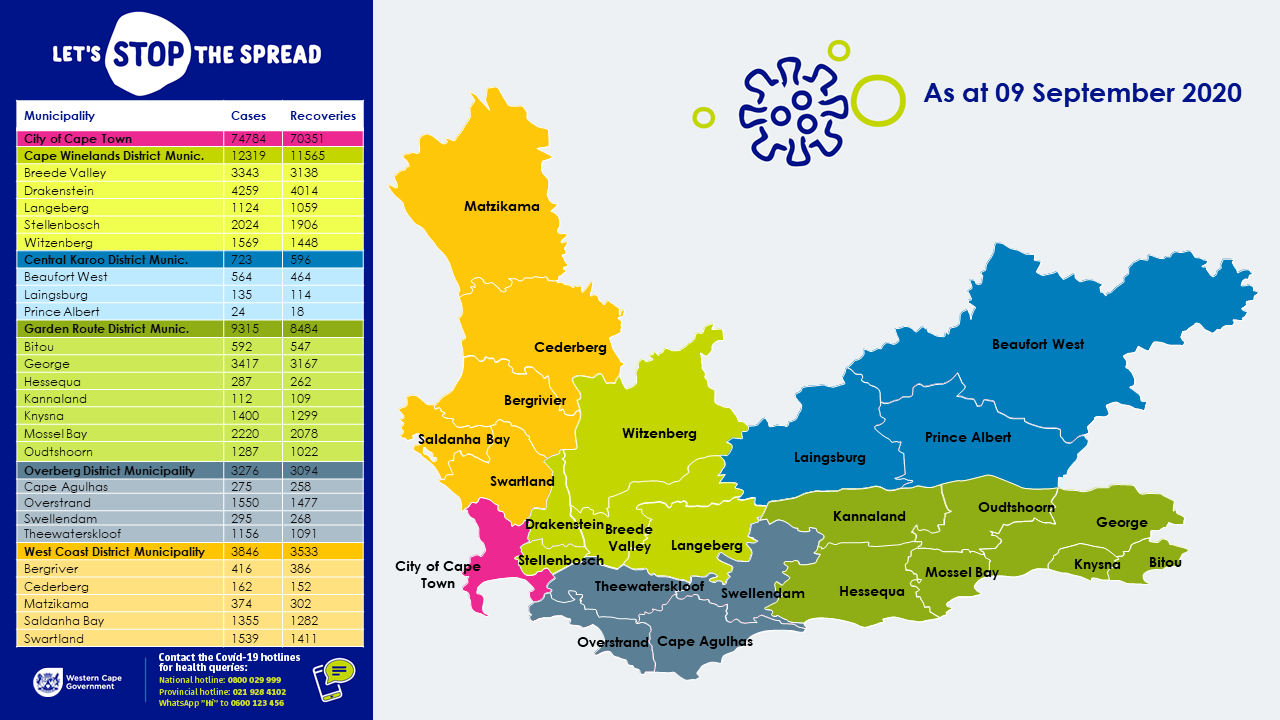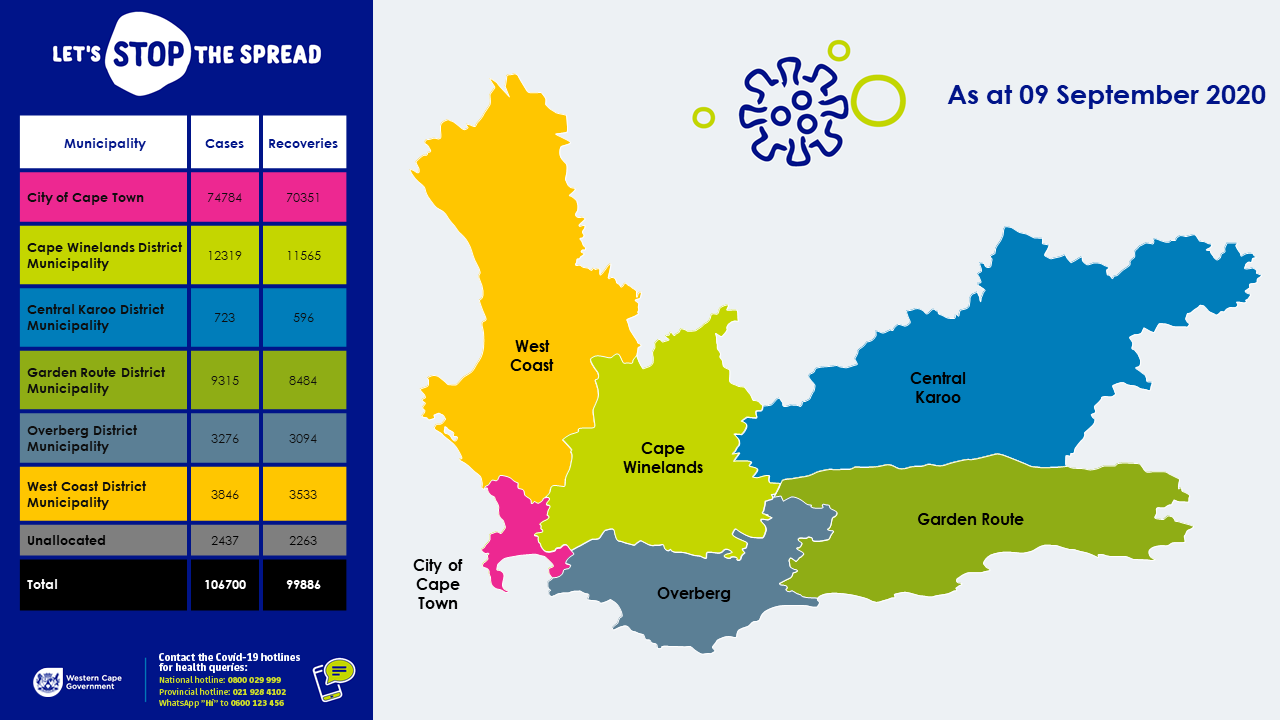 Read the rest of Winde's latest statement below.
Foetal alcohol syndrome
"Today, we observe World Foetal Alcohol Syndrome Day, which aims to raise awareness of this disorder, and Health Minister, Nomafrench Mbombo held an activation in Gugulethu today, where she shared information around the dangers of alcohol.
"Foetal alcohol syndrome results in permanent brain and organ damage in babies born of mothers who drank alcohol while pregnant. It can result in a number of learning and health problems including premature birth, low birth weight, a lower IQ and other learning difficulties, behaviour issues, damage to organs including the brain, heart, eyes and ears, as well as changes to the child's facial features.
"This is one of the many alcohol harms that South Africa faces- but it is entirely avoidable. Women who are pregnant or who are trying to fall pregnant should not drink alcohol at all.
"The Department of Social Development in the Western Cape has allocated R2.1 million to fund organisations such as the Foundation for Alcohol Related Research, and FASFacts, who work to educate the public on the risks of drinking while pregnant. The Department also works to equip ECD practitioners with the skills to support children with FASD and create awareness in communities.
"The Department also funds a number of substance abuse programmes. If you need support to stop drinking, you can phone the DSD's toll free number on 0800 220 250.
"If you are pregnant and have been drinking alcohol, stop immediately to avoid further harm to your baby. You can also speak to a healthcare worker at your nearest clinic to have your child assessed for FASD.
"The Western Cape Government is working on a number of smart interventions across government departments to reduce the harmful impacts of alcohol abuse and misuse in our society."
Khayelitsha business visit
"In recent weeks, I have been conducting visits to local businesses to talk to them about their experiences throughout the lockdown, and the safety measures that they have put in place so that they can open safely.
"This afternoon, I was in Khayelitsha where I visited Rands Cape Town- a chisa nyama and entertainment venue which, when operating at full capacity, is able to employ over 100 people. Due to the restrictions and curfew, they have had to scale back on their operations and have unfortunately had to let some of their staff go. I heard how many of the people employed at Rands were from the local community, and the negative impact that the job losses had for some of them.
"The venue has put in place a number of safety measures including regular sanitizing and decontamination of the whole venue, social distancing markers and sanitizers available at the entrances and on all the tables.
"From there, I headed to Siki's Koffee Kafe. This small coffee shop was started by Siki Dibela in his mother's garage, after having worked as a barista in a coffee chain for a number of years. This entrepreneur had managed to build and grow his business, but the lockdown had a significant impact on him.
"The hard lockdown has had a significant impact on businesses both big and small across the province in all industries. Even though many businesses are able to reopen, and are doing so safely, they are still experiencing hardships as a result of ongoing regulations, which continues to threaten jobs and the livelihoods of residents.
"The Western Cape Government has lobbied for the reopening of various sectors under previous alert levels, and we will continue to lobby for the further, safe, reopening of our economy to protect jobs. We will be using the conversations we have had with businesses and sectors across the province to determine how best we can assist them as we focus now on our provincial recovery plan."
'We bring you the latest Garden Route, Karoo, Hessequa news'