GARDEN ROUTE NEWS - The Covid-19 pandemic could provide an opportunity to strengthen African air transport and the promotion of inter-African trade. So said Dr Amani Abou-Zeid, commissioner for Infrastructure and Energy at the African Union Commission (AUC), during a media briefing on 2 July.
Abou-Zeid was one of the speakers at a virtual briefing on the impact of the Covid-19 pandemic on Africa, hosted by the World Economic Forum in partnership with the World Health Organization (WHO).
The current focus is "doing things within a country, region or continent". Joining the briefing from Cairo in Egypt, Abou-Zeid gave an overview of the impact of the pandemic on travel, tourism and movement across the continent, and emphasised the importance of tourism and travel on Africa's economy.
She said the AUC is now pushing for inter-African tourism, as the tourism industry is gradually opening up for business and domestic travelling.
"We encourage the lowering of taxes, the lowering of fees and tickets. This is an opportunity to encourage Africans to see Africa." She said this could cushion the blow of Covid-19 on air transport and tourism, and have a positive impact on the sector.
"We have 24 million African families whose livelihood is linked to travel and tourism by way of formal or informal employment. In some countries the employment in tourism is almost 20%, with more than half of these jobs held by women. The impact is really severe," said Abou-Zeid. She talked about a loss of almost $55-billion within three months:
"For us in Africa, tourism and travel is not a luxury - it is our livelihood. So far, airlines have lost about $8-billion. Some airlines may not make it post Covid-19."
Looking at the bright side, Abou-Zeid said many lives were saved during lockdown. "A high number of lives has been saved with less road accidents. The continent lost 292 000 lives in road accidents last year - the highest in the world. Compared to last year's figures, the number in road accidents over the same period this year has dropped with 70%."
Prepare for flare-ups
Dr Matshidiso Moeti, World Health Organisation (WHO) regional director for Africa, said everybody should prepare for this virus to circulate for the foreseeable future. "When restrictions are eased cases may flare up, so every community must be able to find, test, isolate and care for cases and trace and isolate their contacts," she said. "Risk can't be reduced to zero. We are constantly learning about this virus and what works in suppressing transmission."
There are currently more than 413 000 Covid-19 cases on the African continent. "And sadly, more than 10 000 people have died." She said there are variations in how the epidemic is unfolding. In countries like Benin and Malawi, case numbers are low, but accelerating. In countries like Ghana and Nigeria cases are steadily increasing; in Sierra Leone and Zambia new cases are decreasing. "And we know that South Africa continues to be the worst affected country, accounting for almost two thirds of the accumulative cases and for about half of the new cases in the past few days," said Moeti. As countries open up their borders, she emphasised the importance of a strong surveillance system, case finding and testing, to "know where the virus is". She said African countries' preparedness for Ebola, regarding temperature testing and contact tracing, has made an important contribution towards identifying Covid-19 cases once people leave the airport. "You may not feel ill, you may not look ill, but the virus may be there. By practising physical distancing and hygiene, and wearing a mask over our mouths and noses, we can reduce the risk of transmission."
Clockwise from top left are George Herald journalist Michelle Pienaar; managing director of the World Economic Forum Adrian Monck; World Health Organisation (WHO) regional director for Africa Dr Matshidiso Moeti; and veteran foreign correspondent for CNN David A Andelman.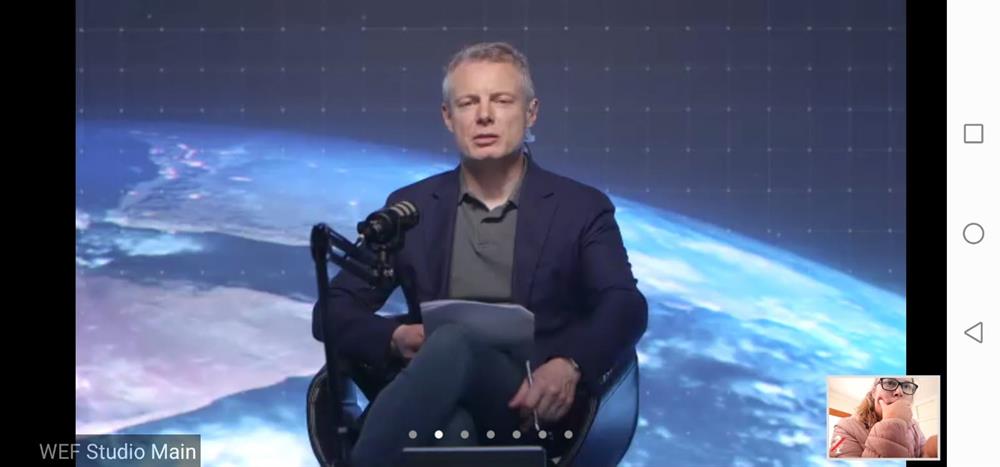 Adrian Monck, managing director of the World Economic Forum.
Dear reader, As your local news provider, we have the duty of keeping you factually informed on Covid-19 developments. As you may have noticed, mis- and disinformation (also known as "fake news") is circulating online. Group Editors (publications and online platforms) is determined to filter through the masses of information doing the rounds and to separate truth from untruth in order to keep you adequately informed. Local newsrooms follow a strict pre-publication fact-checking protocol. A national task team has been established to assist in bringing you credible news reports on Covid-19.
'We bring you the latest Garden Route news'