KNYSNA ENTERTAINMENT NEWS - Studio 42 drama group's Sedgefield Players will present its rip-roaringly funny take on Shakespeare to christen the newly opened Knysna Theatre.
Following the success of its recent, capacity-filled runs in Sedgefield, the popular return of The Complete Works of William Shakespeare (Abridged) is cause for unbridled celebration. The production, a delicious comedy, enjoys a reputation as one of the world's most popular shows.
This version of the three-hander, directed by Melanie Burmeister and featuring Nita Allsopp, Gareth Pretorius, and Bomber Webb, guarantees an evening of genial, goofy, hilarious entertainment.
The play holds the world record for shortest-ever performance of Hamlet – at less than 30 seconds – as well as the fastest performance of Hamlet backwards – at 42 seconds. All 37 of Shakespeare's plays are contained in one riotous romp that is nothing short of an engaging, entertaining manifestation of controlled chaos.
Audiences who know the works of Shakespeare have loved it. Those who have never "dabbled" in anything by The Bard have leaped to their feet and cheered. From high-school children to octogenarians, it seems the universal funny bone has truly been tickled by The Complete Works of William Shakespeare (Abridged).
"Amazing cast – unbelievable talent", "super enjoyable" and "What a blast! Entertainment with a capital E" are just three accolades garnered from recent audience members who thronged to the Sedgefield Players' crack delivery of the play's lightning-swift script, attesting to the cult following the production has already gathered in the region. None are more surprised about this than the cast, crew and director. "We knew we were having fun, but certainly didn't expect our audiences to join us with such enthusiasm," says Burmeister. "The fact that we can do it again and again for other audiences is just the cherry on the top!"
The Knysna Theatre is the brainchild of a new Knysna company, Copy Dog, comprising Riaan Timson, Clinton Marius and William Charlton-Perkins.
See the show
If you, your children, your grandmother and maybe even the family goldfish would like to book a seat for this show, please do so now. Call 082 696 3507 or 082 335 6088. The Complete Works of William Shakespeare (Abridged) will have two performances only in Knysna, on 5 and 6 September, starting at 19:30. Ticket prices are R150 pp and includes a glass of wine. The Knysna Theatre is situated on Main Road in the iconic Melville Centre building.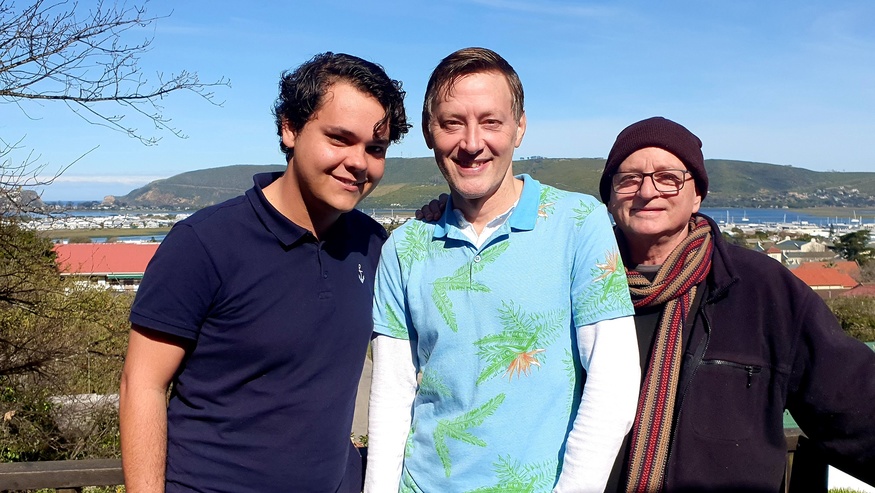 Riaan Timson, Clinton Marius and William Charlton-Perkins. Photo: Wendy Nell
'We bring you the latest Knysna, Garden Route news'