Gallery
SEDGEFIELD GOLF NEWS - On Saturday 25 July, Sedge Links Golf Course played host to yet another members' competition, one of many since reopening in June.
The course has since held a competition every Thursday, Friday and Saturday, with last week's staple Saturday tourney – available to members only due to regulations – being played on an ideal morning with the perfect weather for golf.
Not too warm, not too cold but still enough chill to rattle your bones if you didn't connect with the ball properly. And of course, a bit of wind too added that extra challenge for golfers.
Slightly short of a full field, 34 golfers took to the nine-hole, 18-tee mashie course for a shotgun start at 09:00, just as the sun began peeping over the mountains that surround Sedgefield to the north.
Photo gallery: What a glorious day for golf!
With some golfers still shaking off some lockdown rust, at first there were quite a few balls either going for a swim or a trip to the course's challenging bunkers. However, once the joints were loosened and on the go again things picked up for all and sundry.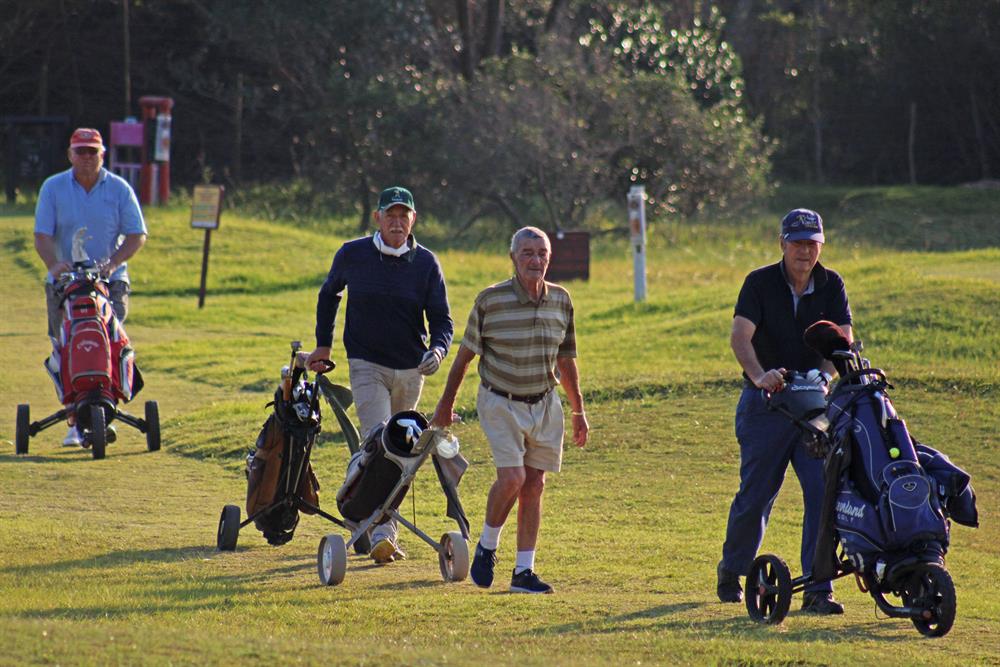 Hamish Leding-ham, Dolf Botha, Rudy Bosch and Ettienne van der Mescht make their way to their next tee box.
The competition was played in the individual-points Stableford (IPS) format, along with a couple of closest-to-the-pin contests. After a round of 18, Doug Stevens was crowned the winner with 40 points, Juandre Barnard was the runner-up with 38 points (on a count-out), and Brian Anderson finished third with 38 as well.
In the nearest-to-the-pin competitions, Clint Jones was the winner on the 4th hole while Barnard was closest on the 7th hole.
Rob Jeffereys and Wynand du Preez make their way to their tee box for the shotgun start. Photos: Blake Linder
'We bring you the latest Sedgefield, Garden Route news'