KNYSNA SOCCER NEWS - The latest round of matches in the KLFA Domestic League has led to a three-way tie at the top of the standings, with Smuts United, FC Rebels, and Red Eagles level on 15 points apiece.
Knysna Local Football Association's (KLFA) 2019/20 season of the Domestic League – the top tier of football structures in Knysna – kicked off on 26 October at Grassy Park in Smutsville and Loerie Park in Knysna, with all three of the eventual league leaders in action. Red Eagles began their campaign with a 1-0 over over Flamingo, Smuts United kicked things off with a 4-2 victory over Ocean Eleven while FC Rebels downed CX Swallows 2-0 to begin their season.
All three sides have since played five more games, with four more wins and a loss coming to each of them.
Latest results have come after a round of fixtures on Saturday 30 November and Sunday 1 December, when 14 games were played over the course of the two days. Smuts United came up against Hot Stars, whom they beat 5-2, but not before their momentum was stopped dead in its tracks by newly promoted Pine Stars who managed to beat Smuts 2-1.
Red Eagles and FC Rebels would play on Sunday, with a clash between the two sides to kick off the action-packed day.
FC Rebels would win this battle 3-2, before going on to defeat Crossroads 4-2 to enjoy a day of perfect results. Red Eagles would bounce back from their loss and down CX Swallows 2-1.
After the latest round of fixtures, 84 games have been played in the 2019/2020 season of the Domestic League with 213 goals coming thus far (80 of which came in the latest round alone). Red Eagles, Young Boys and Flamingo have the joint-best defence so far, with all three sides conceding only seven goals after six games, while on the other end of the spectrum Ocean Eleven and Flamingo are the most prolific teams, with each scoring 25 goals in their six games so far.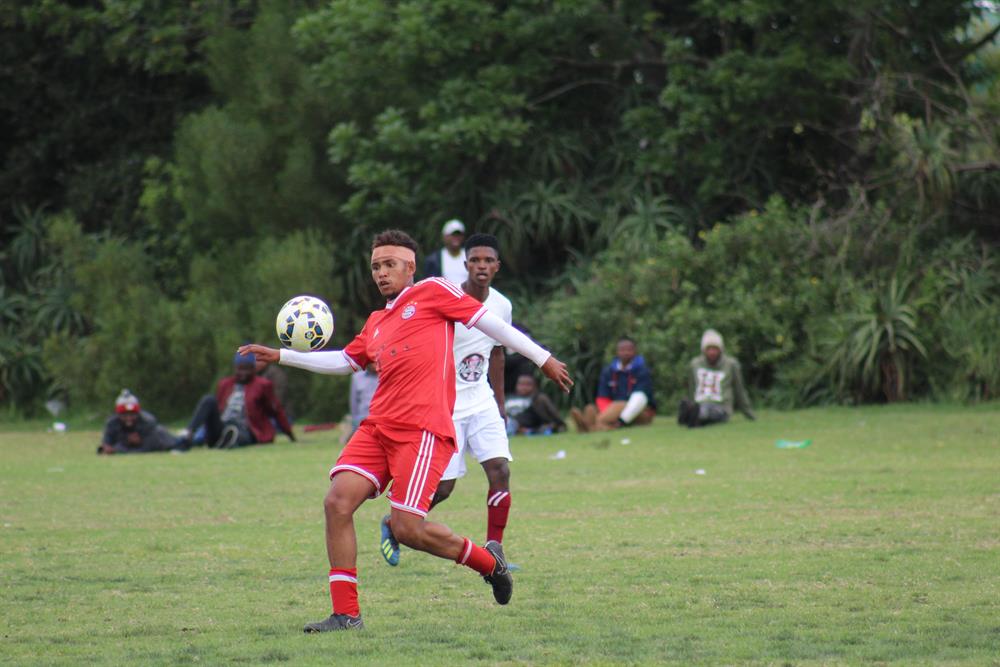 Corney Melite looks to make a pass after controlling the ball. Photo: Blake Linder

Log standings.
'We bring you the latest Knysna, Garden Route news'