KNYSNA FOOTBALL NEWS - The weekend's fixtures kicked off on Saturday, with the clash of the day coming between first-placed Young Boys and fourth-placed Red Eagles.
Young Boys managed to edge Red Eagles 2-1, and in doing so maintained their four-point lead before they dropped points on Sunday while second-placed Flamingo won both of their fixtures to narrow the gap to two points between first and second.
Here is the full list of results from the weekend as well as the latest log:
Saturday:
Smuts 2-0 Swallows
FC Rebels 9-2 El Classico
Ocean Eleven 5-1 United Brothers
Flamingo 6-0 African Roots
Young Boys 2-1 Red Eagles
Young Chiefs 2-2 Crossroads
Two For Joy 3-5 African Eagles
Sunday:
Young Boys 1-1 Two For Joy
United Brothers 1-8 FC Rebels
Red Eagles 7-1 Cx Swallows
Crossroads 1-7 African Eagles
Flamingo 2-0 El Classico (Walk Over)
Smuts United 3-1 Ocean Eleven
Young Chiefs 3-4 Hotspurs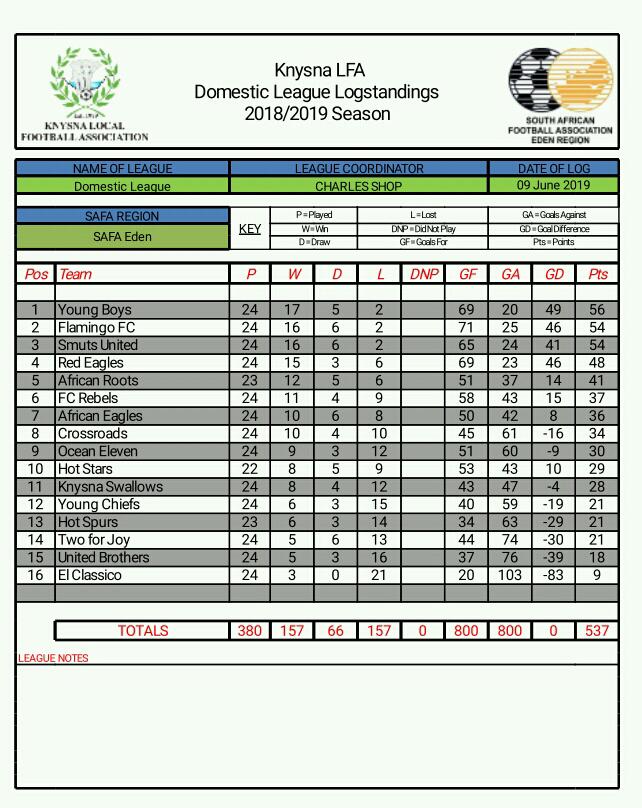 Log standings.
'We bring you the latest Knysna, Garden Route news'