Gallery
KNYSNA SOCCER NEWS - Knysna's soccer community was treated to four days of seemingly non-stop action this Easter weekend. While many others were on Easter egg hunts in their gardens or houses, local soccer clubs were on the hunt for the Easter Trophy, a special addition to any club's trophy cabinet.
The annual 2021 KLFA Easter Soccer Tournament is split into two sections, club and industrial, with Knysna Local Football Association (KLFA) member clubs eligible for the former, and affiliated businesses able to enter a team into the latter section.
Due to Covid-19, the 2020 edition was cancelled, meaning that reigning champions CX Swallows (club) and Simola (industrial) would carry their crowns into this year's tournament.
In the club section 12 teams were split into four groups of three, while the industrial section was split into two groups of three. The action kicked off on Thursday 1 April with the first of the industrial games, while the club section's round robin began on Friday 2 April.
Photo gallery: Easter Tournament group stage
During the weekend, matches would be shared between sport fields in Hornlee, Rheenendal, Smutsville and Loerie Park.
The round robin portion wrapped up on Saturday, with CX Swallows, FC United, Red Eagles, CX Celtics, Hot Stars, Flamingo, Young Boys, and Smuts United going through to the quarter-finals on Sunday. In the industrial section it was Simola, Taxi Drivers, Kasi Masters and Food Lovers Market that progressed to the semi-finals.
On Sunday, CX Celtics, CX Swallows, Smuts United, and FC United made it through to the club section semi-finals, to be played out later that day.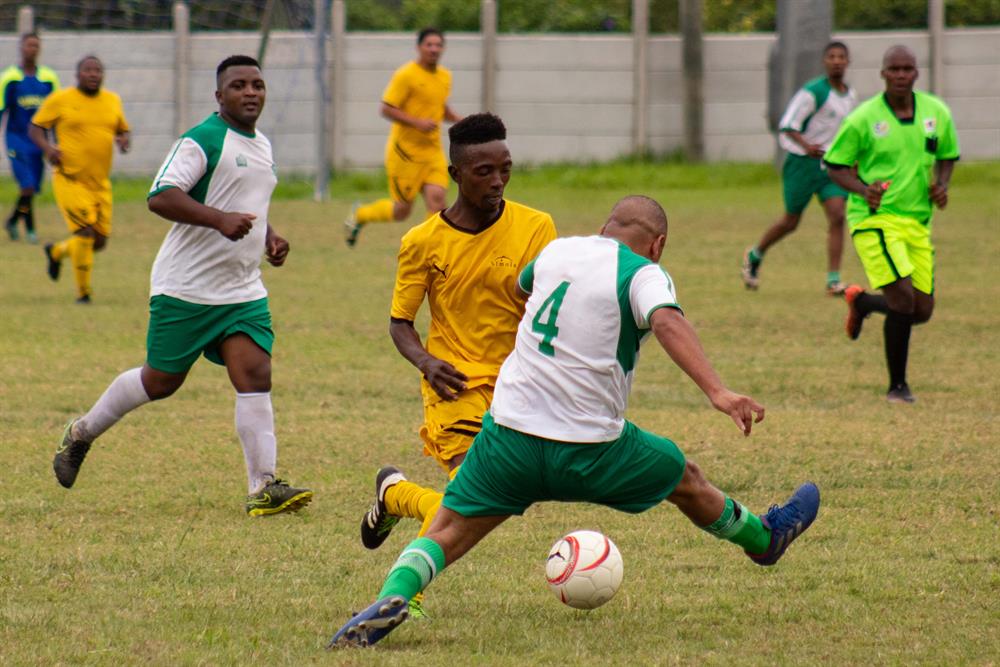 Simola's Victor Mqelhe tries to avoid a tackle from a Food Lovers Market player in the industrial final.
Both semis were close encounters as CX Celtics beat Smuts United 2-1, while FC United overcame a determined 10-man CX Swallows side 2-1. In the industrial section, Food Lovers Market narrowly edged past Kasi Masters, having gone up to 6-0 before a comeback by Food Lovers Market made it 6-5 and the game ultimately finishing at 7-6. Simola beat the Taxi Drivers 3-0 in their semi-final.
Photo gallery: Easter Tournament knockout stages
The finals were played on Monday 5 April, and started with the club section's third-place game that saw Smuts United beat CX Swallows 3-2 to claim bronze.
The industrial final followed, with Simola and Food Lovers Market constantly at each other's throats to win the gold. But, after full time, the scores were level at 0-0 and it was time for a penalty shootout. It would be a nervy one that went to knockout penalties, but Simola managed to defend their Easter crown by winning 4-3 on penalties.
FC United, having done away with the defending Easter champions in the semis, were eager to take on CX Celtics in the final. FC United broke the deadlock about midway through the first half, with the game going into half time at 1-0 in their favour. The second half was a more evenly contested affair.
Both teams enjoyed their fair share of chances to score, but ultimately, FC United were crowned Easter victors for 2021.
Crossroads goalkeeper Dillian Smith pounces on the ball to prevent a corner.
FC United coaches Wiseman Kezana and Alex Kuna pay close attention during their semifinal against Smuts United. Photos: Blake Linder
'We bring you the latest Knysna, Garden Route news'