GARDEN ROUTE NEWS - The steep rising trend in Covid-19 infections in the Garden Route is continuing with a 105% increase in cases in the last 7 days compared with last week.
Last week, there was a 110% increase compared with the previous week.
The number of Covid-related deaths has also increased. In the past week 13 were recorded compared with none to three a few weeks ago. As of Monday 21 June, a total of 1 391 deaths have been recorded in the district since the start of the pandemic.
The number of recorded active cases as of Monday 21 June is 1 420, almost double the figure on Monday 14 June when there were 776 recorded cases.
District health spokesperson Nadia Ferreira said all sub-districts had large percentage increases in new cases.
Admissions to hospitals are also increasing, although none of the district's hospitals are currently under pressure. "George Hospital is not under pressure, but has had a big increase in admissions. Harry Comay Hospital is commissioning a 20-bed Covid ward to provide support for step-down patients from George Hospital," said Ferreira.
She said 26 878 vaccines have been administered since the start of the vaccine programme. This includes healthcare workers, old age homes and public sites.
Vaccines: Protection against severe illness and death
"Over the last few weeks, we have come across several misconceptions about being vaccinated. We would like to remind the public that the vaccine gives great protection against severe illness and death. However, it does not offer a guarantee that you will not contract or transmit Covid-19.
"So even if you have been vaccinated, and do not practise the necessary safety measures, you can still contract the virus, albeit a mild disease. It is therefore crucially important that we continue to adhere to the golden rules."
Ferreira appealed to the public to "break the chain of transmission". Here is how:
Avoid large gatherings;
Also, avoid social gatherings which are outside your immediate household;
If you need to go out, always wear your mask;
If you need to meet up, keep it outdoors, small and short;
When gathering indoors, dress warmly and ensure the windows are open so your space is well ventilated with fresh air;
If sick, stay home
COVID-19 stats as of 20 June 2021: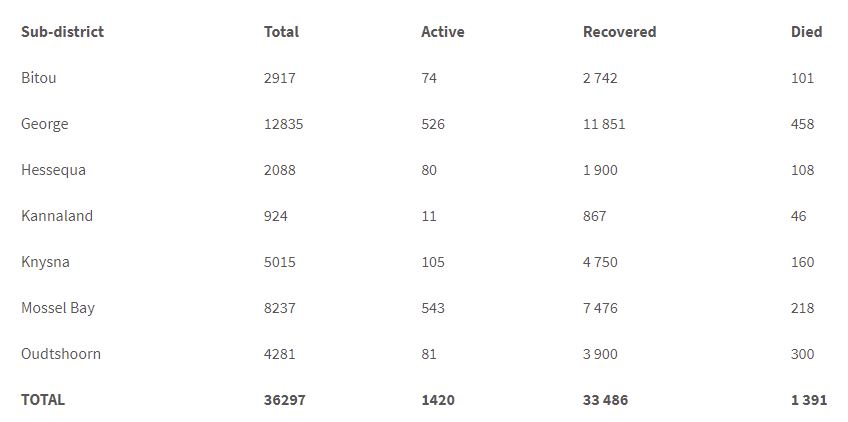 'We bring you the latest Garden Route, Hessequa, Karoo news'